Information
Getting There & Parking
Parking at
the Mercedes-Benz Arena
+++Aktuelle Meldung zu den Konzerten von The Corrs und Bryan Adams+++
Das Bezirksamt Friedrichshain-Kreuzberg von Berlin teilt mit:
Warschauer Straße Fahrtrichtung Frankfurter Tor zwischen Warschauer Brücke und Kopernikusstraße / Grünberger Straße am Wochenende gesperrt

Vom 27.05.2016 (Fr), 10:00 Uhr bis zum 29.05.2016 (So) ca. 19:00 Uhr wird in der Warschauer Straße zwischen der Warschauer Brücke und der Kopernikusstraße Fahrtrichtung Nord die lärmreduzierende Deckschicht eingebaut. Dazu wird in dieser Zeit die Warschauer Straße Fahrtichtung Nord (Frankfurter Tor) gesperrt. Das Queren von Fahrzeugen an der Revaler Straße wird dann ebenfalls nicht möglich sein. Für den 28.05.2016 wird die Vollsperrung aus logistischen Gründen bis zur Grünberger Straße erweitert. Die Kopernikusstraße kann dann ebenfalls nicht mehr durchgängig befahren werden. Fußgänger können mit Ausnahme von temporären Unterbrechungen weiterhin über die Fußgängerüberwege die Warschauer Straße queren.

Die Sperrung wird bereits ab der Stralauer Allee gelten. Die Zufahrt bis zur Brücke wird weiterhin möglich sein. Die Straßenbahn und die Busse der BVG sind von der Fahrtrichtungssperrung nicht betroffen. Eine Umleitungstrecke ist ausgeschildert.
Please note: New parking situation due to construction work!
A limited number of parking spots are available for all events at the Mercedes-Benz Arena's parking deck. Due to construction work continuing in the area surrounding the Mercedes-Benz Arena, significant restrictions may occur when arriving by car, especially at events with a high number of attendees. Under certain circumstances, the number of cars may exceed the available parking capacities. We strongly recommend travelling by public transport or arriving as early as possible when getting to the arena by car. The parking deck opens three hours prior to the start of an event.

Parking deck
The parking deck is located at Helen-Ernst-Straße west of the arena, between Marianne-von-Rantzau and Mildred-Harnack-Straße.
Parking deck access "B" is accessible via Marianne-von-Rantzau-Straße. The fee is 7 EUR per game for home games of Eisbären Berlin and ALBA BERLIN and 10 EUR per event for all other events.
Premium parking
Parking deck access "A" is reserved for our Suite-holder guests, Premium guests of the Eisbären Berlin and ALBA BERLIN, and the Premium guests of all other events at the Mercedes-Benz Arena.
Please note that parking is only included in your ticket if you have booked the "Premium Seat Only" or "Premium All Inclusive" package.
It is not possible to use parking deck entrance "A" and the reserved parking spots without a valid Premium parking ticket.
Disabled access parking
Disabled access parking is available via parking deck B (access via Marianne-von-Rantzau-Straße). Guests with a degree of disability of 70% or more and vehicles for disabled with the blue certificate are free of charge. All other guests will be charged with the respective rate (7 EUR or 10 EUR). Please have your certificate of disability at hand.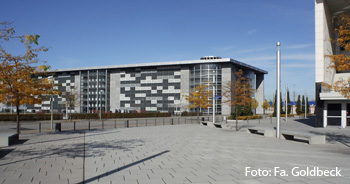 Opening Hours and Rates - Parking Deck
Open daily 24 hours
Regular rates (days with no events scheduled): 2 EUR for each commenced hour
Event rates (3 hours prior to and up to 2 hours after the event): 7 EUR for home games of Eisbären Berlin and ALBA BERLIN respectively 10 EUR for all other events.
The parking fees can be disbursed at the pay machines ahead of the departure or via sms&park service.